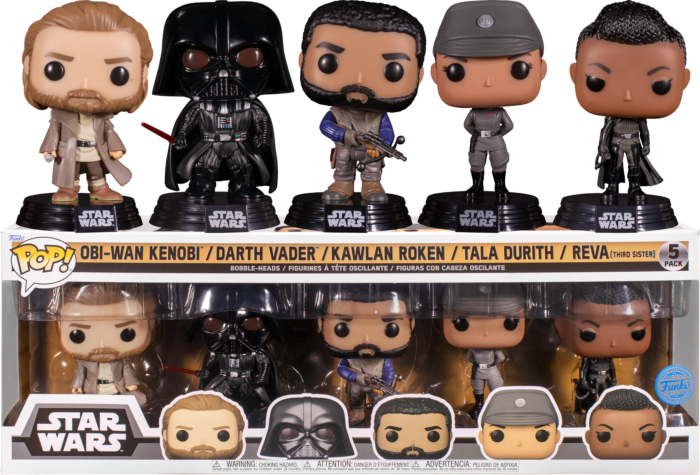 Funko Pop! Star Wars: Obi-Wan Kenobi - Obi-Wan, Darth Vader, Kawlan Roken, Tala Durith & Reva - 5-Pack
Funko Pop! Star Wars: Obi-Wan Kenobi - Obi-Wan, Darth Vader, Kawlan Roken, Tala Durith & Reva - 5-Pack
Set ten years after the events of Star Wars Episode III: Revenge of the Sith, in which the Jedi were destroyed by Order 66 and Obi-Wan Kenobi's apprentice, Anakin Skywalker, became the Sith Lord Darth Vader, Obi-Wan Kenobi follows the jedi master on Tatooine watching over Anakin's son Luke.
Hiding on the desert planet, Kenobi lives a solitary life in exile, until Vader sets up the Sith Inquisitor program, a group of dark side Force users who hunt down any Jedi who survived Order 66. 
This Pop! 5-Pack features plenty of favourites form the series including Kawlan Roken, Tala Durith, Reva, as well as Darth Vader and Obi-Wan himself!
Prove you're one with the force by adding the new Obi-Wan Kenobi Pop! Vinyl Figures to your Funko collection today.
Restricted Shipping: United States
Complete your collection with our Funko Pop! Vinyl Figures! Browse our entire collection here.
Limited Time Offer: Get 15% OFF all your orders at checkout!
Product: Funko Pop! Star Wars: Obi-Wan Kenobi - Obi-Wan, Darth Vader, Kawlan Roken, Tala Durith & Reva - 5-Pack
Manufacturer: Funko
Price: €109,90
Retailer: Real Pop Mania
Shipping: Worldwide
Mint Condition Guarantee
At Real Pop Mania, we understand that it is important for our customers to receive their collectibles in mint condition. That's why we use a premium, secure shipping method to ensure the safety of your products during transit.
When you order from us, you can rest assured that your products will arrive in perfect condition thanks to our 100% Mint Condition Guarantee. If you experience any problems with your products or their packaging, we will do our best to replace them for free.
As collectibles specialists, we know how important it is to have the best products and packaging. That's why we are committed to providing the best possible customer experience and ensuring that your products arrive in the best condition possible.