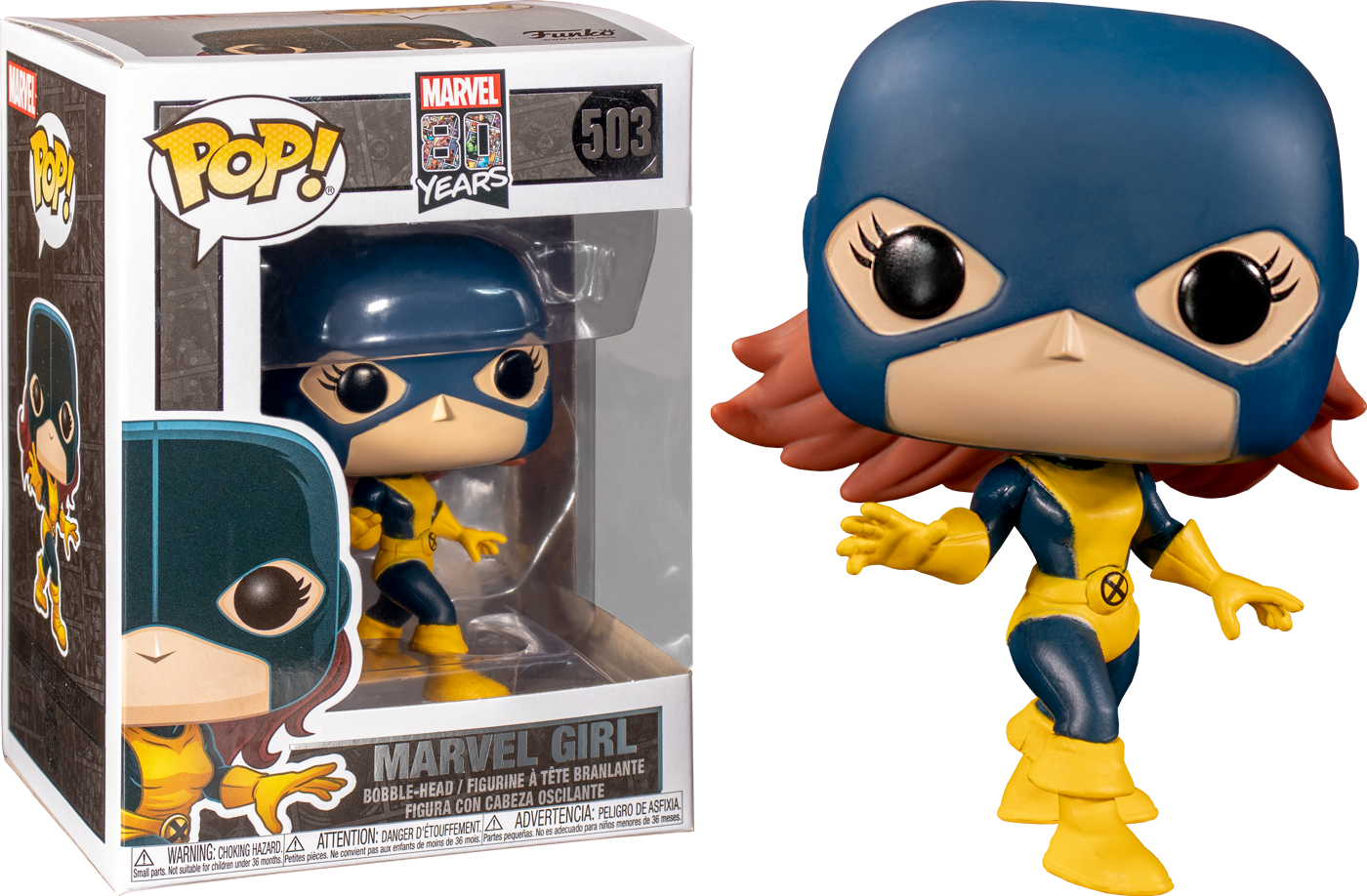 Funko Pop! X-Men - Marvel Girl First Appearance 80th Anniversary #503
Funko Pop! X-Men - Marvel Girl First Appearance 80th Anniversary #503
Who could've imagined when Stan Lee, Steve Ditko, Jack Kirby and co launched Marvel Comics (then known as Timely Comics) back in 1939, that 80 years later it would play such an enormous part in our lives. The heroes and villains that these geniuses created have made us laugh, cry, even given us something to aspire to, and now you can celebrate Marvel's 80th anniversary with Funko's new range of X-Men First Appearance Pop! Vinyl Figures!

The X-Men are mutants, a subspecies of humans who are born with superhuman abilities activated by the "X-Gene". They fight for peace and equality between normal humans and mutants in a world where anti-mutant bigotry is fierce and widespread. They're led by Charles Xavier, also known as Professor X, a powerful mutant telepath who can control and read minds. His archenemy is Magneto, a powerful mutant with the ability to manipulate and control magnetic fields and is the leader of the Brotherhood of Mutants. Both have opposing views and philosophies regarding the relationship between mutants and humans. While the former works towards peace and understanding between mutants and humans, the latter views humans as a threat and believes in taking an aggressive approach against them, though he has found himself working alongside the X-Men from time to time.

This wave features four of the original team of X-Men as they appeared in the X-Men #1 comic, including Cyclops, who can shoot powerful beams of energy from his eyes, Angel complete with his wings, the telepathic Marvel Girl who we now know as Phoenix, as well as the genius Beast, who possesses ape-like superhuman physical strength and agility. He also comes complete with his oversized hands and feet.

They may not look as extravagant as they would go on to become in later incarnations, however any true Marvel fan would know that these First Appearance X-Men Pop! Vinyls are an essential addition to any collection.
Complete your collection with our Funko Pop! Vinyl Figures! Browse our entire collection here.
Limited Time Offer: Get 15% OFF all your orders at checkout!
Product: Funko Pop! X-Men - Marvel Girl First Appearance 80th Anniversary #503
Manufacturer: Funko
Price: €19,90
Retailer: Real Pop Mania
Shipping: Worldwide
Mint Condition Guarantee
At Real Pop Mania, we understand that it is important for our customers to receive their collectibles in mint condition. That's why we use a premium, secure shipping method to ensure the safety of your products during transit.
When you order from us, you can rest assured that your products will arrive in perfect condition thanks to our 100% Mint Condition Guarantee. If you experience any problems with your products or their packaging, we will do our best to replace them for free.
As collectibles specialists, we know how important it is to have the best products and packaging. That's why we are committed to providing the best possible customer experience and ensuring that your products arrive in the best condition possible.