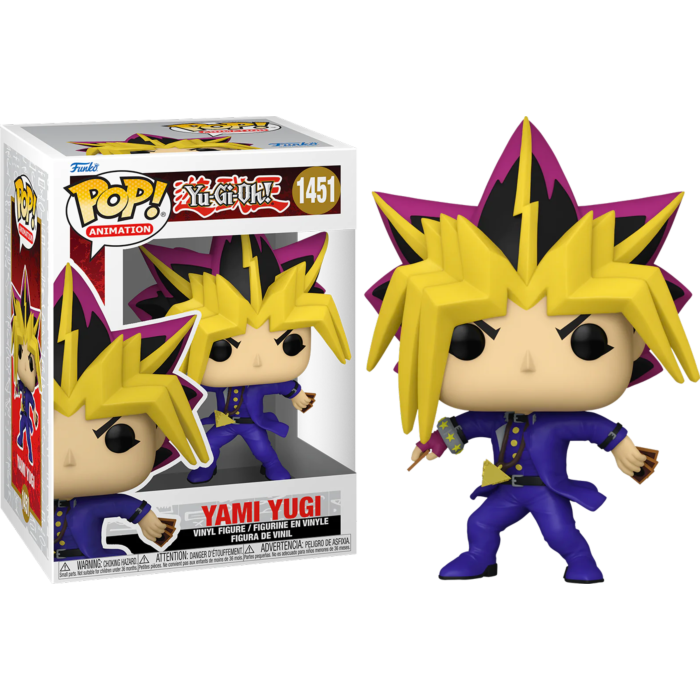 Funko Pop! Yu-Gi-Oh! - Yami Yugi (Demon Kingdom) #1451
Funko Pop! Yu-Gi-Oh! - Yami Yugi (Demon Kingdom) #1451
Launching in 1996, Yu-Gi-Oh is a Japanese manga series that went on to spawn a range of tv shows, video games, card games and more.
Yu-Gi-Oh! tells the tale of Yugi Mutou, a timid young boy who loves all sorts of games, but is often bullied around. One day, he solves an ancient puzzle known as the Millennium Puzzle, causing his body to play host to a mysterious spirit with the personality of a gambler. From that moment onwards, whenever Yugi or one of his friends is threatened by those with darkness in their hearts, this other Yugi shows himself and challenges them to dangerous Shadow Games, which reveal the true nature of someone's heart, the losers of these contests often being subjected to a dark punishment called a Penalty Game. Whether it be cards, dice, or role-playing board games, he will take on challenges from anyone, anywhere. 

Funko's new wave of Yu-Gi-Oh! Pop! Vinyl Figures features a range of favourites from the series including Yugi's best friend Joey Wheeler, Kuriboh a very iconic monster, Seto Kaiba the number one duelist in the country, the Time Wizard one of the rarest monsters around, as well as Yami Yugi, the spirit of Pharaoh Atem that shares Yugi's body.
Don't forget to also look out for the XYZ Dragon Cannon 6" Super Sized Pop! Vinyl Figure as well!
An absolute MUST for any true Yu-Gi-Oh fan!
Complete your collection with our Funko Pop! Vinyl Figures! Browse our entire collection here.
Limited Time Offer: Get 15% OFF all your orders at checkout!
Product: Funko Pop! Yu-Gi-Oh! - Yami Yugi (Demon Kingdom) #1451
Manufacturer: Funko
Price: €19,90
Retailer: Real Pop Mania
Shipping: Worldwide
Mint Condition Guarantee
At Real Pop Mania, we understand that it is important for our customers to receive their collectibles in mint condition. That's why we use a premium, secure shipping method to ensure the safety of your products during transit.
When you order from us, you can rest assured that your products will arrive in perfect condition thanks to our 100% Mint Condition Guarantee. If you experience any problems with your products or their packaging, we will do our best to replace them for free.
As collectibles specialists, we know how important it is to have the best products and packaging. That's why we are committed to providing the best possible customer experience and ensuring that your products arrive in the best condition possible.